San Francisco Concert Remembering Lennie Tristano 1919-1978
In my view, pianist, composer, and bandleader Lennie Tristano's musical "concept" featured a deep respect for the traditions and history of jazz, a focus on the melodic line and improvisation, and new approaches to harmony and rhythm. His influence was felt through his performing and recording career beginning in 1946, and also through his unique private teaching practice in the New York area until his death in 1978.
Owing to the personal influence of bassist Sonny Dallas, this music has been an important part of my life since my student days. Sonny was recruited by Warne Marsh to work with the Tristano quintet for the 1959 Newport All-Stars tour, and remained with the group through the mid-1960s. We met in 1980, and with his support I went on to study and perform with Warne Marsh in New York. I kept in touch with both of them for the balance of their lives, and they remain primary influences and sources of inspiration and ideas. Both men had an active and unique sense of humor, and when I remember something funny that either one of them had said, it invariably brings a smile to my face!
John Klopotowski
July, 2019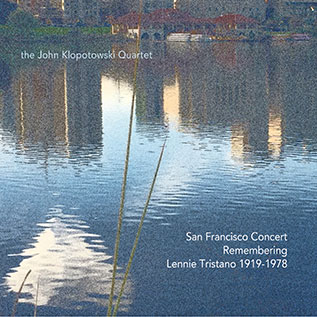 Personnel
John Klopotowski - Guitar
Jacob Zimmerman - Alto Saxophone
John Wiitala - Bass
Akira Tana - Drums
Sample Audio
Child's Play
Subconscious Lee
You Go To My Head
317 E. 32nd
Lennie's Pennies
Stardust
Fishin' Around
High On You
Billie's Bounce

Bonus Tracks (not on CD)

Full concert live recording Set 1
Full concert live recording Set 2
Recording and Production
Recorded at Jazz Chez Hanny, San Francisco, California, February 10, 2019
Production: Frank Hanny, John Klopotowski, Akira Tana, Jacob Zimmerman, John Wiitala, and Rave Tesar
Recording engineer: Adrian Wong
Mixing/Mastering: Rave Tesar/Studio X
Layout and Cover Design: Jeannine Cuevas
Thanks To:
Mom and Dad; Frank Hanny; Jacob Zimmerman, John Wiitala, and Akira Tana; Adrian Wong; Andrew Gilbert; Jeannine Cuevas; Frank and JD Klopotowski; Rita Haronian and John Stansbury; Dash and Bill Cuevas; Rave and Laurie Tesar; Bill Tesar; Bobby and Barbara Keller; Bob DeVos and Carol Selman; Louis Aissen and Kindy Kemp; David Kimberling and Laura Lent; Jack Goodwin; Geraldyne, KC, and Jason Marsh; Scott Metzger; Marisa Davis; Pritpal Singh; David Tepper; David Love; Pete Fallico; Paul Altman; Leslie Andrews; Skip and Laurie Scott; Warne Marsh; and Sonny Dallas
Excerpt of Review by Andrew Gilbert
The year 1919 saw the birth of several bona fide jazz legends, but the centennial of pianist, teacher and pioneering modernist Lennie Tristano has passed mostly unremarked. Which is all the more reason to marvel at John Klopotowski's Remembering Lennie Tristano, an album that in conception, content and lineage embodies everything that made Tristano such a potent and enduring yet overlooked creative force. Released in August 2019, the album forges a new link in a chain that runs directly from Tristano (1919-1978) through his ingenious disciple, tenor saxophonist Warne Marsh (1927-1987), to Klopotowski (b. 1955), the author of A Jazz Life, a well-regarded book about his experiences studying and performing with Marsh throughout the 1980s (see book preview).
Documenting a concert held in San Francisco, the project brings together a superlative cast of improvisers including prolific drum maestro Akira Tana, ace bassist John Wiitala, and rising alto saxophonist Jacob Zimmerman. Delving deeply into a treasure trove of material either composed by Tristano or directly connected to him, the quartet plays with extraordinary subtlety, dynamic control, and beautifully calibrated lyricism. "The group is improvising all the time, even when accompanying," Klopotowski says.