Bio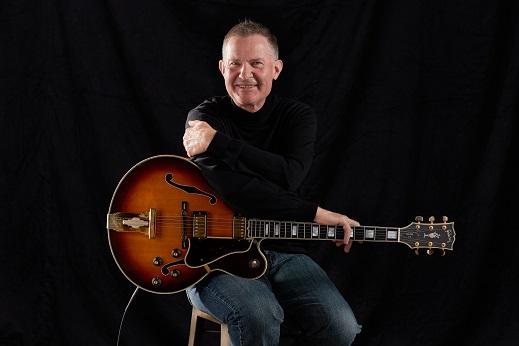 I have been strongly attracted to and influenced by music for as long as I have memories, and have been playing the guitar since I was eleven years old. As a teenager, I heard a lot of great live music in the New York area, and my formal musical career started when I became a music major at William Paterson College in New Jersey (now a University) in 1975. I was quite active during those years as a student, but also as a free-lance guitarist and music instructor.
I graduated from the Jazz Studies and Performance program in 1978 and consider myself very lucky to have studied jazz improvisation and arranging with Thad Jones during that time, and also jazz guitar with Bob DeVos. My lessons with Bob were the connecting link through those years and I felt then, and still do, that studying with him was one of the lucky events of my life. He is a 'guitarist's guitarist', a great teacher and mentor, and still very active in the New York area. Studying with Thad was also an experience that was unforgettable; in my estimation he was an authentic American musical genius.
As an undergrad I also chose to explore classical music in depth through private composition lessons with Jeffrey Kresky, and piano lessons with Gary Kirkpatrick. I also believe that we were all lucky during those years at William Paterson to be treated to regular performances by the New Jersey Percussion Ensemble led by faculty member Ray DesRoches; this was a special ensemble active at the school and in the New York Contemporary music community. As a result, I composed quite a bit of music for percussion including "Partita for Marimba," published by Music for Percussion, Inc., also a large-scale Percussion Sextet in three movements, and a quartet for mixed instruments including one percussionist playing vibraphone and a selection of non-pitched metal instruments. In my last year at William Paterson I also composed a string quartet that was performed on a series of contemporary music concerts and was very well received. The same concert featured a chamber ensemble performance of "Arabia Felix" by composer Charles Wuorinen with Ray conducting; I was in the group and this was a memorable experience. In typical fashion for the ensemble, we met every Thursday evening for rehearsals beginning in September of 1977, in order to prepare two performances scheduled for the following May! (I believe conservatively that we rehearsed for 100 hours in order to prepare those performances.) By that time I had applied to the graduate program in composition at the State University of New York at Stony Brook and began studies there in fall of 1978, but the camaraderie, work ethic, and commitment that I learned from Ray and the New Jersey Percussion Ensemble have never left me. I went on to conduct the first two performances of my Percussion Sextet at Stony Brook, and also played the piano part in a performance of Edgard Varese's classic composition "Ionisation" for percussion ensemble.
At Stony Brook I first studied with Billy Jim Layton and then John Lessard, and also had several pieces performed including the sextet for percussion, and a symphony composed for the Graduate Orchestra in 1983. I earned a Master of Arts in composition and then entered the Ph. D. program, however jazz was still a large interest of mine and I continued to pursue it along with my formal studies.
In 1980 I met jazz bassist Sonny Dallas, and formed a friendship and association that continued until his death in 2007. Sonny was a great catalyst in my continuing development as a jazz player, and led me to eventually meet and study with tenor saxophonist Warne Marsh. I began studying improvisation with Warne in New York in 1982, continued studying with him until 1984, and also performed with him sporadically in 1983. Our friendship and association lasted until his death in 1987.
While studying with Warne I taught music privately in my community, and built a busy practice with students across a wide range of ages. I also was affiliated with Suffolk County Community College, the Port Jefferson Adult Education program, and the Shoreham-Wading River School District during those years. Change was coming for me though, and I decided to move to San Francisco in June of 1988. This was partially due to a desire to change the scenery after Warne's death in late 1987, and also to make a fresh start with my music career.
I enjoyed living in San Francisco but breaking into the music scene was difficult, and starting in 1988 I have worked in a series of interesting non-music jobs including golf professional and instructor, and legal support professional. But I did continue to practice, teach privately for some time, and perform when I could. In 2005 I started typing notes on my studies with Warne Marsh, and this led me to start writing my own book detailing my experiences as a student with him. The book took four years to complete, and there is much information on it contained in the "Book Info" section of this site. Many serious musicians around the world have read it, and the continuing interest in Warne's work has been very gratifying.
After many years of private study I have been undertaking selected recording projects, beginning in 2015 with my first CD, "Project 59." A second CD followed a year later, "Dedicated," and a third CD, "The John Klopotowski Quartet – Live in San Francisco," has been released in August 2019. Information and samples are included in the music section of the site.
The third component of the site concerns family information about my Polish heritage. I started studying the Polish language in 2013 and in significant ways it has been somewhat of a spiritual journey for me. By 'spiritual' I do not mean religious, but rather that as a partial result of studying the language I very much sense around me the spirit of the Polish family that I never was able to know. I have included information on our history in the "Family History" section of the site, including a translation of a letter from my father that detailed his imprisonment in the USSR in 1940, and subsequent experiences as a soldier in the Second Polish Corps. These studies have led me to contemplate the impact of trauma on my family and others like us, and have been a revelation.
I am delighted to hear from anyone on any of these topics, from old and/or new friends, anyone interested in my music or book, and anyone interested in my Polish studies. Please contact me and I will reply.
With best wishes,
John Klopotowski
Oakland, CA 2019