Bio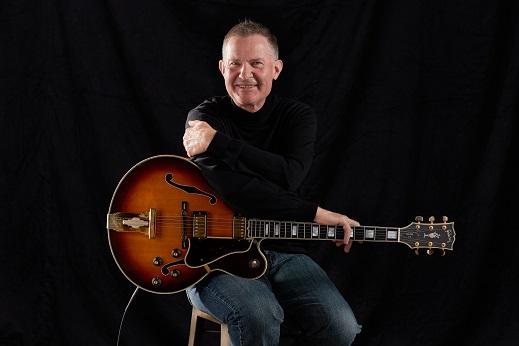 Early life, 1955-1975
I was born in Bangor, North Wales and grew up in Paterson, New Jersey in the United States after coming to the US as an infant. My father was a Polish army veteran and refugee from post-war Poland, and my mother was a lovely Welsh woman from a small village on the Isle of Anglesey in North Wales. My dad was able to come to America in 1950 as a result of the passage by the US Congress of the Displaced Persons Act of 1948. As I grew, music caught my attention and has been an important part of my life for as long as I can remember, and I recall having feelings of great joy when hearing it as a toddler. In third grade I was swept up by the Beatles "invasion" of the United States; a few years passed before I asked my parents for music lessons but I have been playing the guitar since I was eleven years old. As a teenager, I heard a lot of great live music in the New York area including Simon & Garfunkel in concert in Queens, NY on my 13th birthday, the final concert of the Grateful Dead at the Fillmore East auditorium in New York City in 1971, and three concerts by the original lineup of the Allman Brothers Band with Duane Allman before his untimely death in 1971. He was a virtuoso and electrifying guitarist in concert, and attending these performances, and others, were a type of guitar lesson for me in those years.
College and Graduate School, 1975-1983
My formal music career started when I enrolled at William Paterson College (WPC) in Wayne, New Jersey (now a university) in 1975 as a music major. I was an active student during those years at WPC, as well as a practicing free-lance professional guitarist and music instructor in northern New Jersey.
I graduated from the Jazz Studies and Performance program in 1978 and during that time was very fortunate to have studied jazz guitar privately with Bob DeVos, and also jazz improvisation and arranging with Thad Jones. My lessons with Bob were the connecting link through those years; he is a "guitarist's guitarist," a great teacher and mentor, and still very active in the New York area. Studying with Thad was an unforgettable experience; in my estimation he was a musical genius. Shortly after our meeting he invited me to sit in with him and co-leader drummer Mel Lewis at the WPC coffeehouse in September 1975 in a quintet setting, and I will never forget that very warm welcome as a new student on campus.
As an undergrad I also chose to explore classical music through private composition lessons with Dr. Jeffrey Kresky, and took piano lessons with Professor Gary Kirkpatrick. In my last two years I also grew close to senior faculty member and composer Hugh Aitken, a brilliant man and musician who had previously taught in the Literature and Materials of Music program at the Juilliard School in New York. And as WPC students we were all lucky to be treated to regular performances by the New Jersey Percussion Ensemble, led by faculty member Raymond DesRoches. The NJPE was a noted group active in the New York contemporary music community, with recordings available on the Nonesuch label. As a result, I composed quite a bit of music for percussion instruments, and prior to my last year at WPC I composed a string quartet that was performed in April 1978 in a series of contemporary music concerts. Also on the same concert, I was part of a chamber group performance of composer Charles Wuorinen's "Arabia Felix," with Ray DesRoches conducting. The camaraderie, work ethic, and commitment to the art that I experienced with Ray and the ensemble provided musical and life experiences that I remember fondly, and also prepared me for the next stage of my education.
After graduating from WPC I entered the graduate program in composition at the State University of New York at Stony Brook and began studies in the fall of 1978; I studied privately with Dr. Billy Jim Layton and then with Professor John Lessard. Composition lessons with Mr. Lessard were quite rigorous, and he provided a direct link to the approach of seminal French composition teacher Nadia Boulanger. I now consider myself a second-generation Boulanger student, and was devoted to pursuing the traditional compositional studies from the French point of view with Mr. Lessard. During this time I enjoyed several high-quality performances including the "Percussion Sextet" in 1979 with myself conducting, and "Symphony in Three Parts" in 1984 conducted by Dr. David Lawton. I earned the master of arts in composition and then entered the Ph. D. program, however jazz was still a large interest of mine and I continued to pursue it along with my formal studies.
Sonny Dallas and Warne Marsh, 1980-
In 1980 I met jazz bassist and singer Sonny Dallas and formed a friendship that continued until his death in 2007. He was a great catalyst in my continuing development as a jazz player and immediately encouraged me to study improvisation with tenor saxophonist Warne Marsh. I began lessons with Warne in New York in 1982, performed with him in 1983, and remained connected to him until his death in 1987 in Los Angeles. One of the concerts in 1983 was a quartet performance at the Fine Arts Center on the Stony Brook campus with Warne and a trio of myself, Sonny on bass, and Skip Scott on drums. This concert is a high point in terms of memories as we were all significantly connected, and both Warne and Sonny had worked in the Lennie Tristano Quintet from 1959 through 1966. Reuniting them was a dream come true, and Skip is also a close member of the Tristano world. It is clear to me now that in a similar way to learning the Boulanger approach to composition studies, that I also learned the approach to improvisation developed by master pianist and teacher Lennie Tristano, and championed by his student Warne Marsh. I am therefore also a second-generation Tristano student, and should mention that Lennie would likely deflect any credit to himself instead to the influence of seminal American jazz alto saxophonist Charlie Parker. They had a close professional relationship and everyone in the Tristano orbit considered the twin influences of saxophonists Lester Young and Parker to be guiding lights in the study and performance of improvised jazz. In order to focus on private studies with Warne I had taken a leave of absence from Stony Brook, and during those years taught music in the local community to a private practice of students across a wide range of ages. Change was coming though, and after Warne's death in late 1987, and a divorce, I decided to move to San Francisco in June of 1988. I did not return to graduate studies in music, but the training and inspiration that I gained during those years has always been a strong force in my musical life.
California, 1988-
Adjusting to life in San Francisco was challenging, and in order to support myself I began working in a series of interesting non-music jobs including golf professional and instructor, and legal support professional. I also continued to practice music, teach privately, and perform when I could. It was a surprise to me that the 1990s saw continued interest around the world in Warne Marsh's work, and a comprehensive biography by author Safford Chamberlain was published in 1999. Chamberlain had interviewed me in 1991, and I felt over these years that I was carrying valuable musical information gained during my studies. As a result of the publication of the book, other musicians contacted me with more detailed questions, and in 2005 I began documenting the details of my studies. This led to a full-length book, A Jazz Life, finished in 2009 and self-published in 2015. I am grateful for the wide readership that the book has had, and it has led to some really great friendships with younger and very talented musicians. My hope is that more musicians will benefit from my experiences. I also became a father of two boys during these years, and the book is dedicated to them. I am immensely proud of my sons, they are both fine young men and also excellent musicians. We have jammed together on jazz material and Grateful Dead songs!
Recordings, 2015-
After many years of private study I began working on recording projects with friends on the east coast and in the San Francisco Bay Area, beginning in 2015 with the CD "Project 59," recorded at Tedesco Studio in Paramus, New Jersey. A second CD, "Dedicated," followed a year later, and a third, "The John Klopotowski Quartet Live in San Francisco," was released in August 2019. Pianist Rave Tesar, one of my longest and best friends, and his brother Bill on drums are both featured on the first two CDs, along with Bob Keller on tenor saxophone and Kermit Driscoll on bass on Project 59. The live CD from San Francisco features alto saxophonist Jacob Zimmerman, bassist John Wiitala, and master drummer Akira Tana. All three CDs have received airplay on Bay Area jazz station KCSM; Project 59 was reviewed in the Polish online magazine "Jazz Forum," and San Francisco Concert was reviewed by journalist Marc Myers on his website "JazzWax." I fall in the category of "Indie Artist" and am proud of these recordings and grateful for the airplay and reviews.
Historical family information, 1939-1950
This website also contains personal family information regarding my Polish heritage and history related to World War II. I started studying the Polish language in 2013 and in significant ways it has been a spiritual journey for me in that I sense the spirit of the family members who died before I could know them. I include here a translation of a letter from my father that detailed his imprisonment in the USSR in 1940, and his subsequent experiences as a soldier in the Second Polish Corps. My family research and language studies have led me to examine the impact of trauma on my family and society at large, and have been a revelation.
Current musical work, 2022-
Technology has enabled me to connect with students and interested readers across the US and Europe, and I am available for lessons in guitar and improvisation over the Zoom platform. If any reader is interested, please contact me and I will reply.
With best wishes in life and music,
John Klopotowski
Oakland, CA 2022