Family History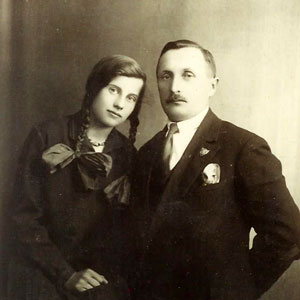 Grandpa and Aunt Janina
Introduction to "Moja Rodzina Polska"
I was born in 1955 in Bangor, North Wales. My mom is Welsh, and my father was Polish and a veteran of the Second World War. They met in 1947 when my dad was stationed in Wales before he was decommissioned from the Second Polish Army.
In 1955 our family was living in Paterson, NJ though, and my mom went back to Wales in order to deliver me because she was more comfortable with the medical care. I came to the US late that year on the ocean liner Queen Elizabeth and grew up in Paterson.
The story of the war years was always present in my family in some form or another, and this is not a unique fact given my age and lineage. But, there was much that I did not know until my father wrote a letter to me in Polish that I received in 1989 after I had moved to San Francisco.
This section of my website is dedicated to offering my translation of this letter, and represents a tribute to the Polish side of my lineage. Briefly put, it is a saga that in some ways has not yet reached its conclusion. I invite readers to read and experience the story, and please contact me with any comments or thoughts. This material is very near and dear to me, and with it I pay tribute to the fallen heroes in my family. Click here to read the history